The stairway to referral marketing heaven
by John Goliats
The principle behind referral marketing is simple and you don't have to be a marketing professional to understand it. Satisfied customers who have had a great experience with a product or service are very likely to recommend them to their friends and family.
Of course, if the product does not meet the expectations expected, it is negative for the brand but also the credibility of the person recommending can be harmed. But if the product or service is of high quality and delivers value to the customers the recommendations can be a real boost for the brand.
This is the real strength of and why referral marketing is so effective, you trust the one who recommends. As a bonus, satisfied customers also usually generate new customers who are alike themselves when it comes to employment, income, interests and more. And satisfied customers are usually the most profitable customers with high Lifetime Value, low churn and so on.
That said, most marketers are aware of this but have no strategy or process to effectively work with referral marketing. Like other channels, one must streamline and optimize continuously to achieve maximum effect. If you have satisfied customers and a brand that engages, your referral marketing can become a decent self-playing piano that does not need so much commitment. But as with everything else, you always get better results if you get involved and spend time and effort.
We will publish several blog posts where you can learn how to take different steps within your company to develop your referral marketing and build a new customer acquisition machine. In this first post, we go through the most important part, and the foundation of your referral marketing, the strategy.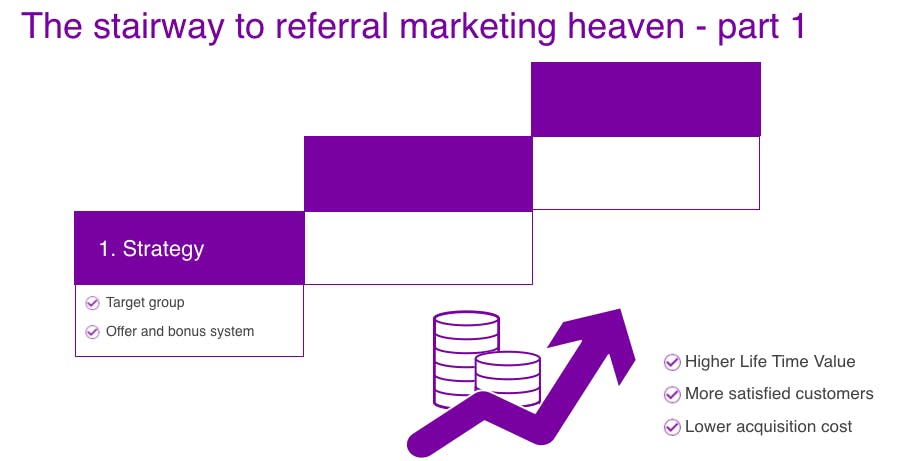 Strategy
Like all marketing channels, referral marketing needs to rest on a well-developed strategy. Key factors that the strategy should include are:
Target group
Who is going to buy my product or service? Who are my most satisfied customers? What drives them and what are their values? What does their demographics look like?
These are some examples of questions that you should have answers to in order to narrow down your target audience so that you can customize your communication and offers in your referral marketing. And as we mentioned earlier, one of the strengths of referral marketing is that your target group then attracts twins because you usually spend time and have relationships with those similar to yourself. In other words, you will attract the most valuable customers through your best and most satisfied customers.
Offer and reward system
An attractive and relevant offer always drives sales and combined with such an offer together with referral marketing gives you good opportunities for success. Another important component is to develop a good reward system for your ambassadors. The more they recommend your products or services, the more new customers they will generate. To give them incentives, you should have a clear bonus system that they can take part of to maximize the number of recommendations.
Some of our customers feel that they don't have enough attractive offers to boost shares and recommendations but it's not hard to find smart and effective promotions that work. Here are some ideas that can increase your customers' willingness to share their experience:
Different types of competitions with the opportunity to win great prizes. These types of campaigns have been around for a long time in various marketing contexts and still work.

The possibility of obtaining popular products or services that many people appreciate goes far to increase the customers' willingness to share their experience. Examples of this could be movie tickets, different types of gift cards, etc.

Give customers the opportunity to contribute to nonprofit organizations that support a higher purpose.
These are just a few examples of different types of promotions you can use to boost the number of shares and recommendations in your referral marketing campaigns. An example worth mentioning is that one of our customers ran a promotion with a total value of SEK 300 on average if their customers recruited new customers. When we ran an A/B test with an offer where you got a gift card for ice cream worth SEK 30, the number of shares increased significantly even though the total value of the promotion was much lower! An important component of this was that it had been very hot and sunny weather for a longer period. In other words, it's also important to have good timing in your campaigns.
The target group and the offer & reward system are two very important components of your referral marketing strategy. Once you have those in place, you are ready to start thinking about the next step in the referral marketing staircase, namely the possibilities (and limitations) with technology and data. More about that to come!
Stay tuned!
If you want to know more about how Referanza can help you get started with referral marketing and start spreading word of mouth about your brand read more about our platforms features.