How to scale influencer marketing: Engage your customers as promoters
by Karin Ånger
In this step-by-step guide I will introduce you to a more scalable, cost-efficient and long-term way of doing influencer marketing - with your happy customers at the core.
Yes, all of those claims are true. After reading this post I promise that won't be just empty words. But I do understand if you are being sceptic.
Maybe you have tried Influencer marketing to some extent before, but it hasn't given you the fantastic results you were expecting? It may also have costed your company a lot of time, effort and money.
You are not alone.
In this "How-to-guide" I will introduce you to how we work with influencer marketing at Referanza - it is different from how most influencer marketing agencies do it.
And most important, it is designed for influencer marketing on a many-to-many scale to make the most out of every penny you spend.
You can name it customer experience-, micro-influencer-, nano-influencer-, customer influencer marketing - or simply influencer marketing as we choose to call it in this guide.
- If you believe in the statements below it is for sure something for you:
The first and most important thing is always the relationship with your customers.

The very key to successful influencer marketing is to deliver great customer experiences that people want to recommend and talk about.
I will also provide you with a few examples of how we have helped our clients reach their goals with our methods.
To give you a clue, one of our clients managed to halve their customer acquisition cost.
Another client sold out their event (total 300,000 tickets), thanks to user-generated reviews shared on Social Media.
In this "7 Step-by-Step Guide" I will tell you what they did to succeed with influencer marketing and how you can do the same:
Measure NPS to identify customers' likelihood to recommend your business
Identify potential promoters
Ask promoters for recommendations
Reward promoters for traffic and conversions
How to choose a good reward
3 examples of great incentives
Reach new audiences with referral campaigns
How refer-a-friend programs work
Retarget website visitors
Follow-up on customer feedback

EXTRA:

User-generated reviews as social proof
Client example: How 2Entertain sold out their event thanks to user generated content on social media
Target promoter lookalikes
Client Example: How Loddo.se decreased the acquisition cost with 50%


But before we jump to Step 1, let's just start off defining what influence is - the very foundation that influencer marketing is built upon.
"Influence can be broadly defined as the power to affect a person, thing or course of events. Influence manifests itself in many ways, from direct purchase advice to subtle shifts in perception of a vendor's credibility."

(Brown & Hayes, 2008)
With the rise of digital and social media everyone has now the tools to influence people all over the world. Only by creating and sharing content online.
This means that channels such as Instagram, YouTube, Facebook and most recent TikTok, have really set ground for common people's potential to make an impact.
Something companies and brands can not ignore.
Learn more? Read Micro influencers vs influencers
1. Measure NPS to identify customers' likelihood to recommend your business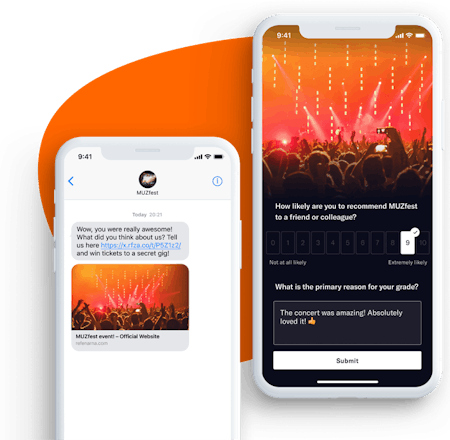 The first thing you have to find out to get going with influencer marketing is if people, and more specifically - your customers, think your business is something worth telling others about.
If the answer is yes;
- Great! Then you have all potential there is to grow your business with influencer marketing.
If the answer is no;
- Well, in that case you have to get back to the core and identify why it is not.
So how do you find out if your business is worth recommending?
At Referanza we use NPS (Net Promoter Score). This is an excellent key performance indicator to measure customer loyalty.
To identify who your best customer influencers are, send them a SMS- or Email survey, simply asking "How likely are you to recommend us on a scale from 0 to 10?".
As a result you will receive a total score ranging from -100 to 100.
This measures the overall willingness of customers to recommend your business to their peers.
What you consider a good NPS depends on your customer loyalty goals and what field you are in. In technical terms, a score above 0 means that you have more promoters than detractors.
If you have a NPS above 50 you have great potential for influencer marketing. Over 70 is top class.
2. Identify potential promoters
The NPS scale is also a great way to cluster customers into different categories.
There are three groups according to the index:
1. First, we have the 0-6's, i.e. the detractors. This group will not make your business bloom. A detractor has either had a bad experience with your company or doesn't think your business is something worth talking about.
2. Then we have the neutral 7-8's, called the passives in NPS language. A customer in this group is usually quite pleased with your products and services but is sensitive to appealing offers from competitors.
3. The last group is also the best one - the promoters, rating 9 to 10. If you mainly have this type of customers your pontential to succeed with influencer marketing is great.
3. Ask promoters for recommendations
At this point you know who your potential influencers are. Customers saying they are likely or very likely to recommend your business.
But that is not enough is it?
Now you want customers to actually start recommending you and let the world know just how great you are.
It is as simple as this:
- To get recommendations, you have to ask for recommendations.
The way we do it is by combining the NPS Survey with a follow-up question, asking customer to share their recommendation - in the same flow. All customers who rates your business between 7 to 10 will be sent directly to the sharing page.
(Detractors will only be asked for feedback.)
The CTA on the sharing page should be something like:
"Thank you for feedback! We are glad you would like to recommend us to your friends. Click on any of the buttons to share your recommendation and compete in winning one year's consumption of your favourite products!".
Notice: We ask both passives and promoters for recommendations. Our collected client data shows that both customer categories do share when being asked, but promoters do it to a much greater extent.
Find out why you always should ask your customers for referrals.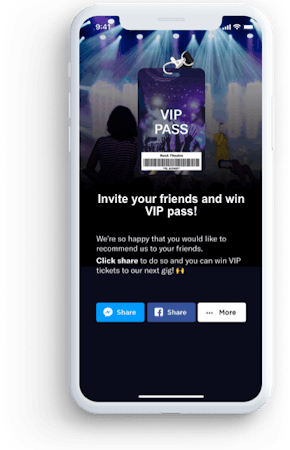 4. Reward promoters for shares, traffic and conversions
Yes, rewarding your customers is important and not the same as bribing.
You can increase your customer base with authentic methods built on customer loyalty - and use incentives. The important thing is that you reward the right type of customers.
And choose the right type of reward.
What you don't want is customers taking advantage of your generosity and causing a loss in revenue instead of the opposite.
One way to prevent this from happening is by only rewarding customers who;
1. Are passives or promoters
2. Contribute to your business.
When it comes to influencer marketing, the contribution that should be rewarded is generated brand awareness, engagement, website traffic and conversions.
Developing a good rewarding system will have a huge effect on your influencer campaign's result.
How to choose a good reward
The type of reward you choose should be relevant to you business' offering and communication. And attractive to your target group.
If you have a shoe business, giving away matching socks might seem like a great idea, right?
But to receive a pair of socks as thanks for helping you gain a new customer, might not be worth it for your promoters.
What you have to consider first is how much you are willing to pay for an acquired customer - that is your acquisition cost. Then you have to look at your customers interest and find out what triggers their engagement.
When you have picked a number and come up with a few ideas of prizes, it is much easier to create a rewarding system that works.
Notice: Finding the right trigger for your customers commands some patience. Most often you have to go through a few trials before you strike gold.
3 examples of great incentives
To give you some inspiration, the tips below are based on what our customers have used successfully:
VIP tickets including meet and greet with the artists or actors (for competition set-ups)
A voucher or coupon (monetary value)
Exclusive merchandise such as a signed t-shirt
Eager to learn more? This post covers everything you need to know about referral rewards.
5. Reach new audiences with referral campaigns
If you have read this far you know that rewarding your customers for helping your business reach new audiences and increase sales is crucial.
But if your goal is to focus on conversions and acquisitions, you should also focus on rewarding people when becoming customers through referrals.
Referral marketing as a whole is based on the concept of online word-of-mouth. That refers to when people spread the word about something (e.g. a product or brand) to their friends and followers, using different social channels.
Under the referral marketing umbrella you find Influencer Marketing, Customer Experience Marketing and Affiliate Marketing.
A popular way to do referral marketing when you want to claim new customers is with incentivised refer-a-friend campaigns.
How refer-a-friend programs work
You send your existing customers an email or SMS asking for a referral
You tell your customers they will get something in return if they share the referral link and their friend uses it to become a customer
Your customer shares the link with a friend
The customer's friend receives the link with a message telling they will receive a welcome offer for their first purchase
Your customer's friend becomes a customer too and they both receive their reward
Two tips!
Make sure that the sharing buttons (i.e. the CTA's) in your referral email or SMS are well-placed and highlighted
Don't forget about storytelling! Creating stories around your brand and products that involves your customers and their experiences, is crucial when it comes to engagement and share rates.
Learn more about how to acquire new customers through referral marketing.
Want to know how we can help you with your referral program? Get to know our referral marketing features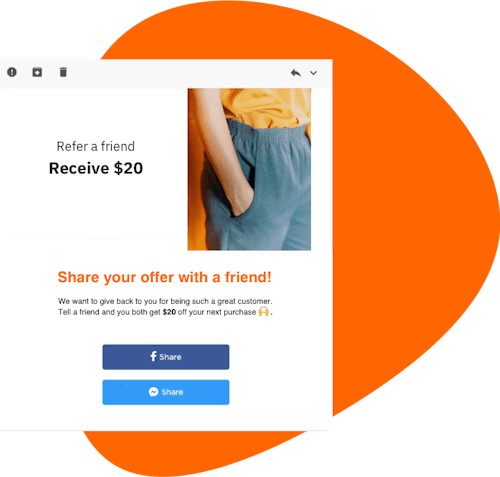 6. Retarget website visitors
Everyone hopes that every new referral equals a new customer. Not to disappoint you, but that is not exactly the case.
There are several factors that affect the purchase decision. The customer journey itself is not a straight line that goes from awareness to action - most often it's more complex.
That is why we need retargeting.
Retargeting is a great way to remind people of the products or services they showed interest in - after they have left your site.
When it comes to referral campaigns, friends of your current customers might click on the shared link and check out the offer directly.
But maybe they are on their way to work, they bump into a friend or they need to evaluate with their partner before purchasing.
Things happen in between awareness, interest, decision and action (the AIDA model).
If you have set up retargeting on your site - e.g. using a pixel, you will get valuable information about your visitors and can show ads as reminders of their unique referral offers.
What's not to forget - you have to make sure that your retargeting ads are relevant.
Nothing is more annoying than ads following you are around, telling you to buy that dress you just bought.
Learn more? Read How to master retargeting: our top 7 tips
7. Follow-up on customer feedback
We have gone from evaluating your business, identifying your influencers, how to ask for and get referrals, to gaining new customers.
But step number 7 is one of the more important;
- That is following up on your customers thoughts and opinions, to keep your customers happy and loyal.
Both the positive and negative feedback is valuable for your business.
The first will provide you with information about what you are doing good, which might be other things than you thought.
Maybe they will mention your excellent customer service as your biggest advantage, whilst you thought it was the quality of the goods.
The same way around with the negative feedback. Maybe you thought the shopping experience was the biggest problem of all, but is shows that in matter of fact - your delivery time is.
You should use the positive feedback as arguments in your sales and marketing.
The negative comments should be followed up individually for a personal customer experience - and to prevent negative word-of-mouth.
Customer feedback is a great way to gain new insights. Except from finding out what you could improve, it will also help your company come up with brand new ideas.
What is not to forget - you need to commit to make changes.
To work with customer feedback and follow-up has to be put into a structured system. Depending on your company size and workload, you need to at least have one person responsible for the task.
Does it seem like too much of an effort?
Then here's a little note for you:
"It is 6 to 7 times more expensive to acquire a new customer than keeping an existing one according to a study."
Asking your customers for feedback will show that you care about their experience and create a better, more personal, relationships.
Nurture these relationships and you will in return get loyal customers that generate more sales.
Read this post to learn Why Customer Feedback Is AWESOME.
Extra: User-generated reviews as social proof
Here's a great thing: Many of the comments you get from asking customers about their feedback, can easily be used as online reviews.
Promoters who are happy with their experience usually leave positive feedback too, even if they don't have to. Perfect to use for your marketing on-site, social media channels or on Google.
To use user-generated reviews as a social proof, is a great way to convince potential customers to go through with their purchase.
Data collected by Invesp showed that 88% of consumers trust online reviews the same way they trust personal recommendations.
So if you are looking to acquire new customers - let your current customers be the storytellers. That is a much more effective and trustworthy way of communicating your pros.
Client example: How 2Entertain sold out their event thanks to user generated content on social media

One of our clients, the production company 2Entertain, were able to sell out all 300,000 tickets to the famous musical The Phantom of The Opera, a lot thanks to the word-of-mouth effect.
Attendees who had seen the musical shared a total of 5,400 reviews on social channels. The user generated reviews got 640,000 impressions on Facebook and Twitter - and 109,000 interested event-goers visited 2Entertain's website to learn more and buy tickets.
People said things like "You have to see this musical before you die".

Sofia Ekskog, Marketing Manger at 2Entertain
Extra: Target promoter lookalikes
You are probably already familiar with lookalike targeting on Facebook, a function to reach new customers with similar qualities as your current ones. These qualities could for example be interests or demographics.
Lookalike advertising is also possible to do based on your best customers - your promoters.
Below is an example of how one of our clients, Loddo.se, succeeded with lookalike targeting based on his best customers.
Client example: How Loddo.se reduced their cost per purchase with 50%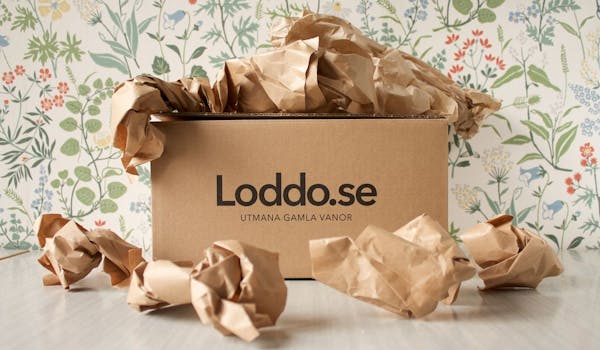 Image source: Loddo.se
Loddo.se set up an ad campaign on Facebook, to compare conversion rates and costs between their original target group and a lookalike audience of promoters*. 
The results were significant.
The cost per purchase were 50% lower for the lookalike audience compared to Loddo's original group. The reason was that promoter lookalikes who clicked on the ads converted to a greater extent - which lowered the cost.
Read Loddo.se's success story here.
*customers who answered 7-10 on the question "How likely are you to recommend Loddo.se to a friend, on a scale of 0-10?"
What is your take on influencer marketing?
To summarize, our approach to influencer marketing is to let your satisfied customers drive engagement and sales - instead of expensive influencers with million of followers. To care for your voluntary brand ambassadors is a great way to achieve authentic and long-lasting relationships, with both old and new customers.
We are also curious to know how you work with influencer marketing! Please share your thoughts with us at hello@referanza.com.
Karin Ånger
Customer Success Manager