Everything you need to know about referral rewards
by Katie Dodd Syk
So you've decided to set up a referral program - congratulations! You've got your budget planned and have figured out which channels you'll be promoting on. You've used your NPS score to figure out which customers to target. Now you're ready to reach out to request those coveted referrals. You may be able to get quite a few by simply asking your customers to share their love for your business with their friends and family. However, you're going to get much further if you can offer some kind of motivation for their efforts.
– That's where referral rewards come into the picture.
Referral rewards are an incentive to your customers to get them to promote your goods or services. When a reward is involved, the likelihood that your happy customer will spread the word about you with a friend increases, sometimes a lot. A whopping 72% of global customers say that they'd rather buy from a business with a referral reward program than one without. 
Choosing the right reward
One thing to consider is what kind of reward you should offer to the devoted customers who promote your brand. There are a number of options which largely depend on your industry and the products or services you provide. Here are a few different types of referral reward:
Discounts: This type of reward is heavily favored by customers and provides great value to customers for making repeat purchases and to businesses in increasing sales as well as customer loyalty. Discounts can be either a cash value or a percentage off the total cost. They're not ideal for businesses where repeat purchases aren't common, such as buying a car. 
Cash: Offering money in the pockets of customers who make successful referrals is a great option for businesses that don't get many repeat customers. They generate buzz and don't need to be as high in value as discounts. When comparing boomers to millenials, it's the boomers who appreciate cash rewards more so, as always, research the preferences of your target audience.
Redeemable points: A points reward program allows customers to choose what they want in exchange for their points. When customers spot a specific reward they want to earn with their points, they're even more motivated to accumulate the number of points necessary to get that reward. 
Gift cards: This refers to third-party gift cards for other businesses. Gift cards are very customizable as you can choose an appropriate business to reflect the interests of your customer base. They're also popular with customers and allow them a great deal of flexibility on when and how to use them.
Gift with purchase: This type of reward is often popular within luxury retail. An added incentive is to offer a gift that is exclusively available through purchasing, such as access to advance pre-sale tickets for an event. This creates a more compelling reason to purchase in the first place!
Charitable donations: This is a meaningful way to provide a reward, and truly a win-win-win for all involved: the customer, your business, and a charity of your (or your customer's) choice.
Miles: This option is perfect for businesses in the transportation industry, such as airlines or car rental agencies when an accumulation of bonus points is exactly what customers use when they purchase your service.
Upgrades: Another great option for businesses where upgrades are available, including hotel rooms, airlines and more. Who doesn't appreciate an upgrade?
When deciding on the best type of referral reward to offer, be sure to choose one that is valuable, attainable and relevant to your customer base. Consider what some common interests or motivations are among your customers. What might be most suitable to their personalities?
Referral rewards don't just encourage your happy customers to spread the word; they also encourage brand loyalty.
Let's say you decide to offer a discount to referrers on their next purchase with you. The chance of them purchasing with you again will be much greater than otherwise. Of course, this only applies to businesses that are conducive to repeat purchases.
For products like long mobile contracts where purchases are made much less frequently, a discount on future purchases may not be as valuable to customers. In this case, perhaps free minutes or a third-party gift card would be more appropriate.
When to give a reward & how much to give
Now that you've got your reward figured out, you'll need to decide what action will enable a referrer to receive that reward. Will it be when the referred friend clicks on a link? Or when they actually make a purchase? Will it be once the item ships, or a certain number of days after the purchase? Think about what makes the most sense for your business model. 
There are no hard rules for what to set as the value of a referral reward; it largely depends on your industry and audience, among other factors. You want to be sure, though, that the reward you offer does not surpass your profit margin on a purchase.
Want to know how we work with referral programs and rewards at Referanza? Find out more about our referral marketing features.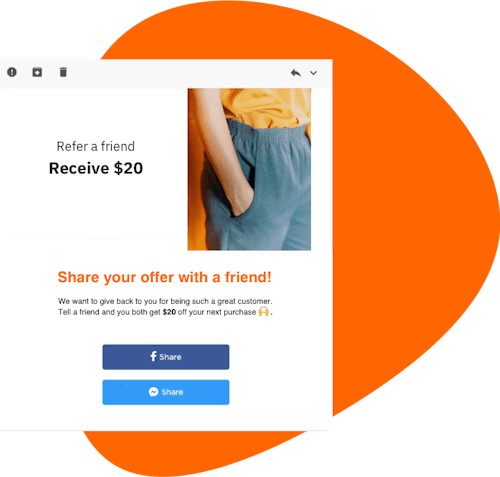 A/B testing and comparison is crucial
You can try testing different amounts to see what gives you the best balance between engagement and cost efficiency. Perhaps you offer 15% off the customer's next purchase to start, and later try 10% without much of a decrease in referrals. In this case, it's safe to say that 10% off is the better choice. You can also test various options using A/B testing to make more accurate comparisons. 
Look at what your competitors are doing regarding referral rewards. Do they have referral programs set up? What are the terms of their programs, and how can you differentiate your business from theirs to attract more customers? Think about what makes your business unique and how you might incorporate that into your rewards. 
Getting the most from your referral rewards program
Depending on your line of business, there may be certain periods when referrals would be most valuable. Perhaps you're in a slow cycle when fewer purchases are being made. Or maybe you need more visibility early in the purchase funnel. Whatever the case may be, you can use referral rewards to your advantage by increasing the reward during these periods. This is known as dynamic incentives. 
Another option to consider when setting up referral rewards is whether you'd like to make available referral chains. Referral chains offer referrers increased rewards for the subsequent referrals from friends and family who they've referred, similar to multi-level marketing programs. Referral chains are designed with the idea that a referrer will encourage those they refer to then refer others, increasing the rewards for all involved as well as the conversions for your business. 
Follow-up campaign data to optimize your results
Tracking data from your referral reward program is incredibly important. You'll be able to gage the success of your set-up by looking at the numbers behind its performance, and can make small adjustments (or major revisions) as necessary to create the successful reward program you need to improve your business. These adjustments may involve the reward offered, the value of that reward, or the channel by which the reward is shared with your customer, among other criteria.
Make sure the reward is valuable to your customers
Whatever type of referral reward you decide to offer to your happy customers, make sure it has value. Offering a discount that your audience can find elsewhere without making a referral is going to backfire as customers start to realize what you're doing. You may get a few referrals to start, but they'll most certainly peter out and you will have lost the trust of some potentially valuable customers. 
Referrals are one of the easiest types of leads to close so all this planning is sure to pay off in the long run. Taking the right steps to set up your referral rewards from the start will vastly increase the success of your referral program. You'll support happy customers and encourage their loyalty as well as building your customer base for the future.
Curious for more? In this guide we let you know how to scale referrals by turning customers into promoters.
We would love to hear from you!
– Now we want to ask you, how do you work with referral rewards? We also have a few successful client examples to share! Please send us an email hello@referanza.com.