Why you should set up a brand ambassador program today
by Referanza Team
"Brand ambassador" - a term most people associate with celebrity influencers and sports stars. But the fact is that your loyal customer with a small but engaged group of followers and friends, could be just as important as an influencer with thousands of followers. It's not until you start viewing all your customers as potential brand ambassadors that you can reach the full potential of referral marketing as a growth and business strategy.
Research shows that we are three to four times more likely to trust the opinions and recommendations of people we know, compared to a public spokesperson or expert. This difference grows even larger when you compare trust levels between peers and impersonal institutions or companies.
Getting your customers to carry your message for you, also known as word of mouth or referral marketing, is especially powerful in digital channels. The friction for someone to share, forward or like your message is much smaller than in the physical world of traditional media.
The purchasing process for B2C as well as B2B moves increasingly, and in some cases almost exclusively, online. Marketing as well as business development departments therefore have a great potential of taking the lead in transforming happy customers into enthusiastic brand ambassadors.
In many ways, this changes the game completely.
Sales and advertising budgets that once focused on winning as many new customers as possible through traditional media such as TV, radio, print ads, and paid social, must widen their horizon - and their sales budgets. They should now also include existing customers as a potential 'marketing channel' - through ambassador marketing.
How to Design a Ambassador Program? Start with Targeting
Finding your potential ambassadors who could refer a friend, generate positive customer reviews, or create content that turns into free viral marketing, all starts with simply identifying who your existing customers are.
Building databases of customers, their purchases, as well as the interactions you have with them is key to understand where and who your customers are. This will help you to answer how to best interact with them, as well as what type of content and rewards engage them.
Luckily, digital marketing, as opposed to traditional types of media, allows you to target customers in a completely new way. This has been used by marketing departments to find new customers within certain segments online, but even more to keep track of and engage already existing customers who could become brand ambassadors.
How does Ambassador Marketing differ from Traditional Marketing?
Traditional marketing and ambassador marketing both make use of targeting to reach new customers, but who they target is where they differ.
- Traditional marketing focuses on finding new customers directly, rather than nurturing existing customer relationships that carry the potential of becoming brand advocates.
When traditional marketing does focus on building brand advocacy, it's usually among existing employees rather than existing customers.
Traditional marketers may also focus to an unnecessary extent on high lifetime value customers. High lifetime value customers have long been the holy grail for businesses, as you can build the backbone of your business on them - with steady, predictable, and recurring revenues.
However, customers with a high propensity to serve as ambassadors for your product or brand - by leaving customer reviews, creating content, or telling their friends or family about your product - may be even more valuable than a high lifetime value customer.
Viewing Your Customers as Ambassadors, Advocates, and Contributors 
For a marketer to take the step from traditional sales and advertising to brand ambassador and referral marketing, there is one critical insight at the foundation of all other activities: instead of viewing your customers purely as customers, view them instead as potential ambassadors, advocates and contributors.
As an effect you will start viewing all your sales activities in a different light too.
Most importantly, you understand that your job and responsibilities as a marketer do not end at the point of sale, but rather begin at the point of sale.
If you can turn that new customer into a high-octane brand ambassador (what people within the industry call a 'market maven'), you have just created a low-cost or possibly free marketing channel which can multiply one sale into hundreds.
In fact, one study showed that a customer with high customer referral value (CRV), even when they have low lifetime value, can be even more valuable than those with high customer lifetime value (CLV) - showing very concretely the value of network effects on your business's profitability and growth.
Need help connecting with your brand ambassadors? Our features will do the job for you.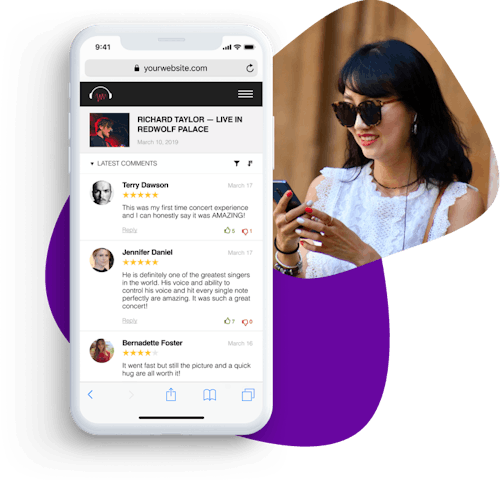 How Does Brand Ambassador Marketing Work?
So how does brand ambassador and referral marketing generate more leads? Three reasons according to a study out of the University of Pennsylvania: (1) reciprocity, (2) triadic balance, and (3) homophily.
Reciprocity simply means that a brand ambassador after being compensated through a referral reward, will be more likely to return the favor again. Like friends who give each other gifts, the cycle will continue and loyalty increase until there is a falling out. For companies, this relationship can be fostered as long as the customer's experience and satisfaction with the product or service continues to be high.
Triadic balance refers to the fact that brand and product advocates will be better than traditional ATL marketing (advertising to a wider audience) at reaching customers that are more relevant for your company. This is especially true when you are operating in niche markets where the imprecise targeting of TV, print, radio, or even social media targeting simply won't cut it in order to reach your specific segment.
Customer advocates are surrounded by people who are alike themselves and often share the same desires, needs, and problems in their daily lives. This makes them your brand's perfect message carriers to the people within their specific circle.
In other words, when the connection A to B is made, as well as B to C, C will connect to A seamlessly and without any persuasion: you have created a triadic network which will start growing organically - without much effort from you as a marketer.
Lastly, homophily means that people tend to bond and interact with people alike themselves. For your business this means that you are likely to amplify the number of potential customers you reach - who need and want exactly what you are selling.
In fewer and simpler words, referral marketing, triadic balance and homophily simply create better matching between customer, customer need, and your product.
How to Identify Brand Ambassadors?
So how to identify and find these oh-so-valuable brand ambassadors? This is where we get back to the importance of focusing on existing customers as a marketer or business developer, because this is where you find them. These people are often very passionate, have a willingness to engage with others, and are credible among their peers.
According to Forrester Research, they can be classified as either 'Educators,' 'Validators,' 'Status seekers,' or 'Collaborators.'
Educators are those who love to share their insights and knowledge, perhaps through something like a YouTube-channel or a podcast, or simply when chatting with colleagues by the water cooler. Educators find joy in being trusted and sharing what they have learned, and potential customers trust these people because they showcase expertise.
Validators, similar to early adopters, like to try new products and share their unfiltered and honest opinions with their audience, to make them feel more comfortable when making a purchasing decision. Validators often express their opinions in channels such as customer review sites, survey responses, or simply in forums with like-minded users.
Status seekers are similar to validators and educators, but are also motivated by building their own brand in the relevant industry. They may be an industry insider who has gained a following thanks to his or her experience, now serving as a consultant, board member, or adviser within the sector. These people are particularly important because they often have their own channels in which they can praise or critique products within their area of expertise.
Collaborators are those who want to work with you to make the product better. They get a sense of reward from being a part of a journey and seeing a company grow, sometimes regardless of whether or not they are compensated financially . Often, however, their business or trade is related to yours, so if you can help them grow their business in some way they will often help you grow yours even more.
Build Relationships, Build Networks, Build Sales
Many of these relationships are based on some form of 'give and take'.
However, it is important to remember that potential advocates, just like customers, don't like to be annoyed or feeling pushed towards an action. The sign of a great marketer is one who views their existing customers both as potential brand ambassadors and people with interests and passions similar to their own.
All great brand ambassador marketing strategies are built on marketers who build relationships with their customers, relationships that build networks, and networks which increase your sales and market share.
So, let's get going - there's not a minute to be missed in getting your brand ambassador program set up.
In this guide we will let you know how to grow your business with the help from your brand ambassadors.
We would love to hear from you!
– Is brand ambassador marketing already a part of your strategy but you need some advice, or do you want to get started from scratch? Write to us at hello@referanza.com.