Increase sales before and after events with customer referrals
With our self-service platform it's easy to build campaigns that speaks to both your audience and their friends! Choose between SMS or email, add your design & copy and send to your contacts. For all marketers out there.

Build up excitement before the event
Reach out to your fans right after they have bought a ticket and ask them to invite their friends too. All they have to do is click share! With our Referral flow you will increase your online word-of-mouth and credibility by letting your fans do the talking. When you want to create a pre-event hype, get closer with your fans and boost sales.
How it works for Event Marketing
1
Your fan buys a ticket to the experience and is encouraged to invite her friends.
2
Your fan invites her friend through a social channel who buys a ticket too.
3
The fans are asked to submit reviews and share feedback in their social channels.
4
The new fan shares her recommendation to another friends who buys a ticket too.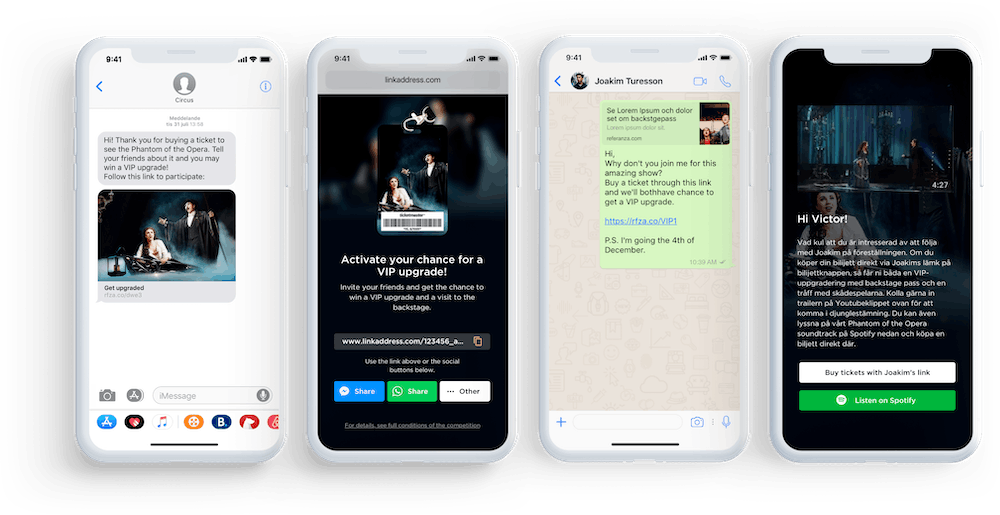 Get publishable reviews after
Find out your Net Promoter Score, get valuable feedback and publish reviews from customers who had a great experience. Our Recommendation flow is built to increase fan engagement, shared recommendations and sell out that arena of yours!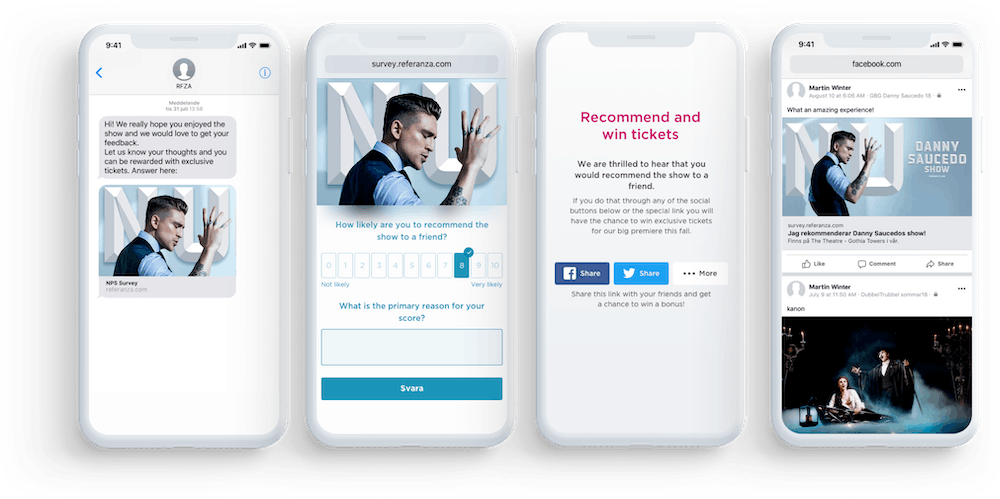 And this is how you get started
Get in touch
Don't be a stranger! Click get started or send us an email and we will get back to you with more information.
Log in to your account
After signing up you will get access to the platform where you manage all your campaigns.
Create your first campaign
Choose between SMS or Email as your send out channel. Then pick the Referral or Recommendation flow. Add some nice-looking images, your brand colors and a compelling copy. Done!
Ready, set, schedule & send
Upload your contacts directly in the platform and decide the time for your send out. Or connect to Ticketmaster, Eventbrite or Zapier for a seamless transfer. You're all set!
Follow up and optimize
All data needed will be right at your hand. We'll provide you with tips and tricks on how to improve those results!
Find out how much you can gain by using Referanza!
1.5% - 2.2%
Conversion Rate
113 - 165
Expected New
Customers
$100
Expected Revenue
per Customer
$

0

- $

0
Expected Total
Campaign Value