Recommended by customers
Recommended by Customers is a verification badge developed by Referanza that measures customers' overall satisfaction. Companies with the badge have a majority of happy customers who would recommend the company's products or services to others*. The number of filled stars at the top of the badge represent the average score.
Calculation of Recommended by Customers
The calculation is based on Net Promoter Score, an index ranging from -100 to 100 that measures the willingness of customers to recommend a company's products or services. It is used as a proxy for gauging the customer's overall satisfaction and the customer's loyalty to the product or service. 
To calculate Net Promoter Score (NPS), clients of Referanza uses a simple survey asking customers how likely they are to recommend a certain product, service, or the company itself, to a friend or colleague on a scale of 0 to 10.
To make it easier to understand and more beneficial for visitors online, the NPS scale is converted into a 1-5 star rating system, which constitutes the Recommended by Customers score.
NPS Score to 1-5 star conversion

5 stars companies
Companies with the 5 stars badge delivers a top-class customer experience that reviewers strongly recommend to others.
4 star companies
Companies with the 4 stars badge delivers a very good customer experience that reviewers highly recommend to others.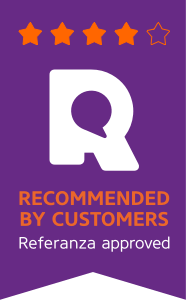 About Referanza
Referanza is an independent company that works with measuring customer satisfaction and customer experience for our clients. We carry out third-party measurements based on the internationally established method NPS, Net Promoter Score.
*Based on respondents' score from surveys issued by the company in question.